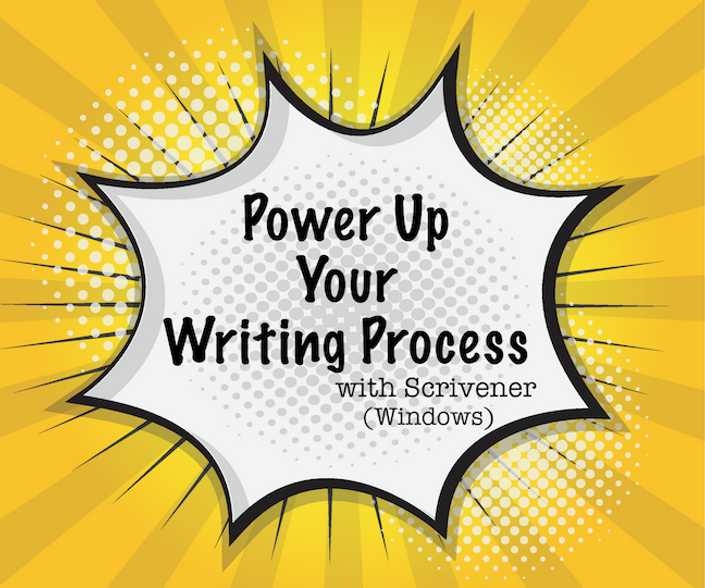 Power Up Your Writing Process with Scrivener (Windows version)
From first idea to finished manuscript, learn tips and tricks for adapting Scrivener to YOUR writing process.
Watch Promo
Do Any of These Scenarios Fit You? 


You jump straight into the writing, then have trouble finding key details after the first draft is finished.
You've heard that Scrivener is good for outlining, but you haven't figured out a method that works for you.
You want to track character and plot arcs but don't know how to do that in Scrivener.
You have a ton of research notes but can't figure out the best way to organize them so they're easily accessible.
I used to struggle with all of these problems. After I imported my book into Scrivener, I didn't have the time to figure out all the features. I needed to get the book finalized and out the door. So I just used the basic features of Scrivener and had to be satisfied with that.
With each subsequent book, I figured out another few features to help ease my writing, editing, and organizing process.
Sure, there are plenty of courses that will teach you the features of Scrivener.
What's missing, however, is how you as a fiction writer can best apply those features to your writing process.
That's where I come in. I'm going to walk you through using Scrivener from initial idea to final draft. You'll look over my shoulder as I set up the Binder to hold the elements that you need for your story structure. You'll watch me create character templates and connect them to your manuscript so they're quickly accessible.
I'll show you how to track arcs with keywords or Meta-Data. I'll walk you through a couple of different ways you can outline. Do you need to keep research notes and urls handy? I've got you covered.
For those of you who really don't like the look of Scrivener, I'll show you a variety of ways to customize the interface to make you more comfortable with it.
I created this course to save you time.
Am I going to cover every single one of Scrivener's features? Nope. Because if I did, I'd never have time for my own writing. But I am going to cover what I believe are the key features that will make your writing process more seamless. Some of the features you may be familiar with, but you never considered using my way. Other features may be little gems you had no idea existed.
You won't need all of these features with every book. Heck, you might only find a handful of features that you'll use with any regularity. But guess what? Once you purchase this course you have lifetime access. If, down the line, you realize you want to try out the Scratchpad, you can come back to that lesson and find some ideas on how to incorporate it into your writing process
Your Scrivener Toolbox
Think of this course as presenting you with a toolbox and some nifty examples on how to use those tools. When or if you use those tools is up to you. Maybe you'll come up with your own ways of using the tools. If so, I hope you'll share.
With these tools in hand, you'll be able to access your data faster. Which means you'll have more time for writing.
And isn't that what all of us want?

Your Instructor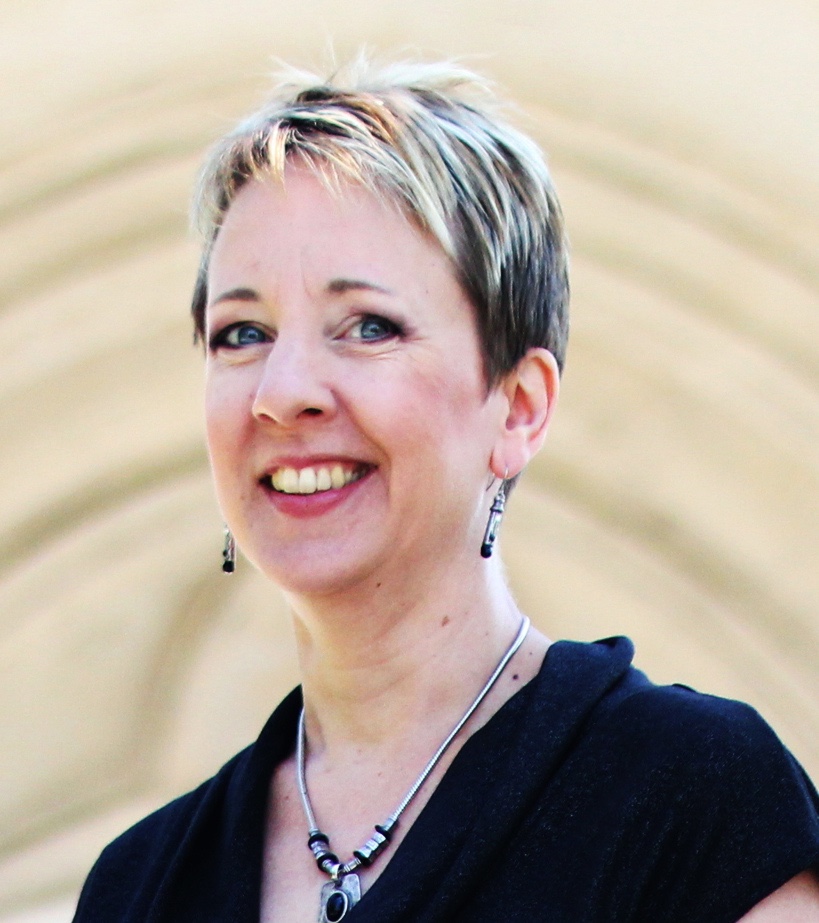 I'm Vanessa Kier. Scrivener coach and author of action-packed romantic thrillers. But what you really want to know is:
Why I'm the Best Teacher for This Course
I'm a Fiction Writer Who Uses Scrivener
I started out using Microsoft Word for writing my manuscript and Microsoft Excel for keeping my character sheets. But I found it time consuming to switch back and forth. Plus, I had trouble finding key scenes or data. Now I use Scrivener from the earliest planning stage to incorporating my proofreader's comments into the final draft. I also keep my series bible for my current series in Scrivener.
My writing process is constantly evolving. At heart, I'm mostly an organic writer (aka pantser). But in order to cut down on revision time, and to avoid another case of having to cut 100,000 words from a manuscript after editorial comments (True story!) I've started doing more plotting and character development before I start writing. With each book I find a new way to use Scrivener to cut down on the time required to go through my process from concept to finished product. I spend less time looking for details and more time writing editing.
But Do I Know How to Teach?

Yep, I know what you're thinking. Just because I use Scrivener doesn't mean I'm any good at teaching it. And you're right. We've all taken classes or workshops from someone with stellar credentials who failed to excite us, let alone educate us, about the topic.
Why? Because explaining material in a way that resonates with a variety of students requires a specific set of skills.
How do I know this?
I have a wide background in unconventional teaching. I taught high-school level math in a West African school. I provided tech support at several small companies, explaining software and hardware usage to executives who didn't have time for lengthy explanations. I taught adaptive horseback riding to physically and mentally challenged youth. I'm also a one-on-one Scrivener coach for busy writers.
What Does This Mean for You?
It means that I have experience teaching people of all ages with short attention spans and/or busy lives. So I know how to break concepts down into short, relevant lessons that are easy to digest. It means that I understand people have different ways of learning. In addition to each lesson's audio and video, I'll provide you with a summary sheet and a practical challenge where you get to apply the lesson to your own WIP. Sort of like homework. Only fun. And aimed at getting you so comfortable with Scrivener's features that you too, can brag about how much help Scrivener is in your writing process.
I want to teach you to use Scrivener at the level that will most help YOUR writing process. Because you're too busy to spend hours learning how to use any tool, no matter how wonderful.
This course IS for you IF:

You're currently using Scrivener, but feel as if you're missing the best bits.

You're hoping to consolidate more of your writing process into Scrivener instead of using Scrivener plus several other tools.


Your writing process changes slightly with every book and you want to learn how Scrivener can accommodate these changes.
This course is NOT for you IF:

You've never used Scrivener. You need to have a basic familiarity with Scrivener in order to get the most out of this course.*

You're happy with your writing process. If it's not broken, don't fix it!


You're looking for a step-by-step guide on how to write a book. I'll show you options to improve your current writing process, but this isn't a writing or plotting course.
*If you've never used Scrivener, you can sign up for one of my one-on-one coaching sessions. Or, if you'd prefer an online course, I recommend Gwen Hernandez's Scrivener course. She's the author of Scrivener for Dummies and a great teacher.
Course Curriculum
Getting Started
Available in days
days after you enroll
Preliminaries
Available in days
days after you enroll
SECTION 1: Getting the look and feel right
Available in days
days after you enroll
What's the Bottom Line?
The world needs your stories. Not your curses as you try to figure out where you mentioned what color collar the hero's dog was wearing when it disappeared.
Scrivener helps you streamline your writing process, allowing you to focus on creating stories, not spreadsheets.
Don't waste any more of your precious time. Enroll now and start making the most of Scrivener.

Frequently Asked Questions
When does the course start and finish?
Enrollment is open now! Once you've enrolled, you get immediate access to all of the lessons. It's a completely self-paced online course - you decide when you start and when you finish.
How long do I have access to the course?
How does lifetime access sound? After enrolling, you have unlimited access to this course for as long as you like - across any and all devices you own. This means you get access to any updated and/or new lessons.
What if I am unhappy with the course?
We would never want you to be unhappy! If you are unsatisfied with your purchase, contact us in the first 30 days and we will give you a full refund.